In just 10 years, heavy transport on Danish roads increased by 26%!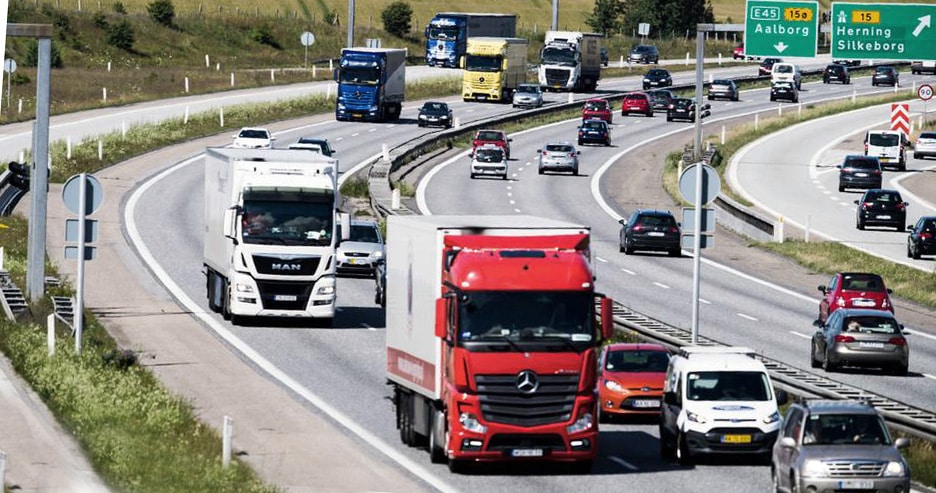 This is the sad news that both leading Danish media Jyllands-Posten and TV2 national news – brought on Tuesday 21 September 2021.
Fortunately, it is possible to reverse this downward tendency by optimising the capacity of the lorries that bring goods around the country to both companies, public institutions, and private consumers. In fact, one of the country's leading logistics operators, PostNord Logistics, already saved every 8th lorry in their operations through capacity optimisation. More on that later.
In some places along the Danish motorway network, there are up to 58% more lorries on the roads today than just 10 years ago. It is therefore a major challenge to optimise freight capacity to reduce the proportion of empty or half-empty road journeys.
Increased filling rate – a shortcut to fewer lorries and greener transport
According to the transport industry association ITD, the filling rate for lorries today is 56%, against only 38% in 2008. Thus, the industry has improved significantly already, but there is still much more to gain, for example through greater data transparency across supply chains, changed logistics behaviour, and by implementing new innovative solutions.
This does not only apply to more green fuels solutions and new vehicle technologies, of which many are still under commercial maturation and development and therefore remain expensive for large scale implementation.
The fact that heavy road traffic has increased significantly over the past 10 years unfortunately creates both infrastructural challenges, increased congestion on main roads and consequently, increased CO2 emissions.
The good news is that we all, both as consumers and companies, can do something about it here and now, whilst we wait for "the silver bullet" to break the climate curve and the negative development.
The transport and logistics sector creates value to society and performs an important socio-economic task, ensuring supply security and transporting goods to both companies and consumers. The fact is that we all contribute negatively to increased transport and CO2 emissions, partly because e-commerce has increased dramatically.
A CO2 tax will not do it alone
However, it is possible with existing solutions to optimise freight capacity cost-effectively and for the benefit of the climate. A kilometre-based CO2 tax could solve some of the problem, but there are other options too.
Danish Transport Minister, Benny Engelbrecht, told Jyllands-Posten yesterday: "One of the problems is the number of empty-driven kilometres. We must make the best possible use of available lorry capacity, and here the current tax on lorries is not appropriate. Therefore, part of the answer to the challenges is the kilometre-based CO2 tax, which will come into force in 2025. With this operators must pay per driven km instead of a flat charge. And if you drive CO2-neutral, you get a 75 percent discount"!
A kilometre-based CO2 tax will have a positive climate effect, and we will all be paying the extra price. It is not possible to transform our society into a greener and more sustainable society, without wanting to pay for it, or changing our behaviours. And the vast majority are fortunately ready to do so.
At the same time, regulation should also look at how logistics operators can optimise the capacity and filling rate of lorries, so that the proportion of non-optimised freight transport is minimised, thus reducing the number of lorries on the roads.
In spring 2020, the Minister of Transport visited our climate partner Blue Water Shipping, who is already working to optimise load capacity of both their own and customers' fleet operations with the SpaceInvader solution. A solution which, with efficient double-stacking of pallet goods, triggers large gains to the benefit of both the climate and the financial bottom line.
Green customers lead the way
SpaceInvader's transportation system helps logistics operators reduce their CO2 / NOx emissions by minimum 15%. The lorries are packed better and filled up more, in the end, this means significantly fewer lorries on the roads. PostNord in Denmark has already saved every 8th lorry on the routes where the SpaceInvader system has been put into operation, and the ambition does not stop there – they want to remove even more trucks.
The green transition of heavy transport is thus about more than a future CO2 tax, and investment in greener vehicles and fuels. There are already cost-effective quick-wins available to pick with low-tech capacity optimisation – here and now – while we all wait for the "hockey stick" technology.
https://www.spaceinvader.com/wp-content/uploads/2021/09/vi-drukner-i-lastbiler.jpeg
640
960
Mads Holde
https://www.spaceinvader.com/wp-content/uploads/2022/03/SpaceInvader_flat_logo.svg
Mads Holde
2021-09-24 15:08:09
2021-10-11 10:40:56
In just 10 years, heavy transport on Danish roads increased by 26%!